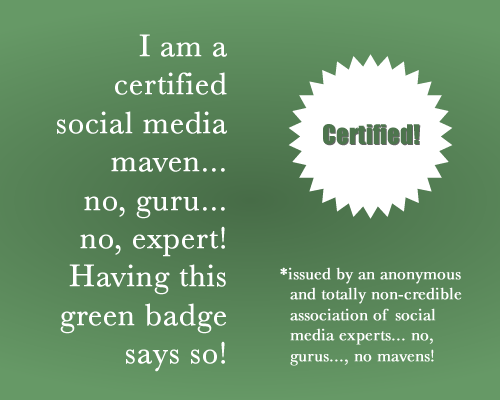 Great post at DotCult: Having 1000 Twitter Followers Doesn't Make You a Social Media Guru
The core of the argument:
Engagement is what matters. How many of your followers actually reply to you? How many of them comment on your posts? What percentage click on links that you tweet? Go ahead and ask your social media person – I bet they don't have any answers for you.
On a related side note, I've recently had a twitter epiphany. My former strategy was to follow people back and just ignore them, using tweetdeck lists to pay attention to those I deem worthy, while maybe occasionally skimming those not on a list, as explained here.
This was a horrible strategy. Not only was a promoting/helping spam-bots that were auto-following anyone and everyone, but it made the web feed (and more importantly, mobile phone feed) less useful. Even with the new lists feature, I was getting a lot of noise.
In the past week, I've unfollowed over 400 people. I'm now following less than 800, and plan to keep defollowing people as I see noise in my twitter feed. I've also lost ~100 or so followers, and I expect that number to keep dropping as I unfollow people – I'm guessing their software can detect when they're not being followed back, or they're using a service like friendorfollow (awesome, btw) to determine who isn't following them back anymore.
Here are some other posts on "Social Media Experts" – as ranting about social media has been a consistent theme in this blog 🙂
Have a nice weekend!